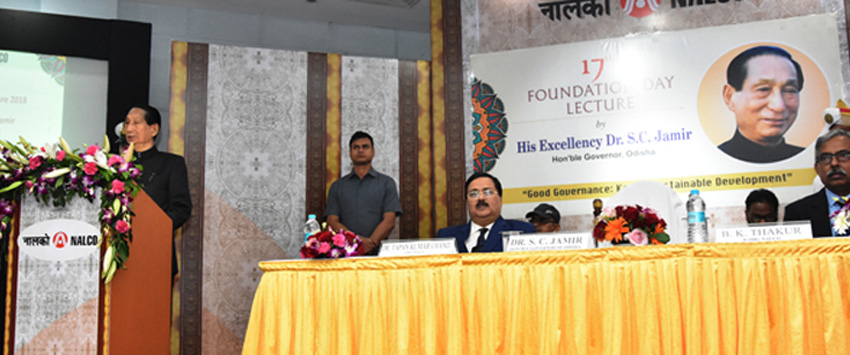 His Excellency Dr. S.C. Jamir, Hon'ble Governor of Odisha, delivering the 17 th NALCO Foundation Day Lecture, in the presence of Dr. Tapan Kumar Chand, CMD and Shri B.K. Thakur, Director (HR)
Bhubaneswar, 04/01/2018: His Excellency Dr. S.C. Jamir, Hon'ble Governor of Odisha has delivered the 17 th Edition of NALCO Foundation Day Lecture Series on 'Advancing Opportunity for our Youth : Pathways to Economic Growth & Inclusion', here today.
While delivering the welcome address, Dr. Tapan Kumar Chand, CMD, said that as a progressive and forward-looking company, NALCO has declared the year 2018 as the year of happiness for all its stakeholders. NALCO's focus on 3D – Dedication, Determination and Discipline has made NALCO a collective acclaimed across the industries. In production, productivity and profitability, NALCO has posted strong performance with post GST quarter net profit registering 92% growth. NALCO has been consistently, during the last couple of years, rated as Excellent in Corporate Governance. Dr. Chand reiterated : "As a responsible CPSE, NALCO, along with its business, has been laying emphasis on the promotion and maintenance of pollution- free environment in all its activities. NALCO need to continuously work to realize the dream of people of Odisha – progressive and prosperous Odisha"
In his speech, Dr. S.C. Jamir stressed on the role of industry on in ensuring a quality Skill Development System that meets the needs of both the industry and employees and providing opportunity of growth for the youth of Odisha. Citing the Skill India Mission as an opportunity for industries to play an important role in bridging the skill gap in the country, he asked the industry leaders to come forward to address this issue. In this context, Dr. Jamir asked NALCO to take the lead as the company has an in-depth knowledge of the industry and play a key role in making sure training package meet the needs of the sector it represents. "NALCO is in the best position to identify skill gaps and emerging skill needs," he added. He also appreciated NALCO's efforts towards CSR and Social Innovation.
Also, on the occasion, various awards were presented to the respective winners. NALCO Green Energy Award, dedicated to engineering excellence for adoption of environmentally friendly technology leading to energy efficiency was handed over to Shri Amiya Kumar Samantray, CEO & Co-founder of Phoenix Robotix Pvt. Ltd. NALCO Smiles Award for the NGOs and Institutions, working towards the rehabilitation and resettlement of differently-abled children/persons was bagged by Shanta Memorial Rehabilitation Centre. NALCO Fine Arts Award instituted to recognize personalities who have been promoting fine arts of Odisha, was handed over to Shri Pravakar Maharana and Shri Manas Kumar Sahoo. NALCO Start-Up Award that celebrates the success story of a start-up from the state, making its presence felt in the industrial eco-system, was given away to Ms. Arati Devi.
The event began with a soulful invocation of the divine in the form of Odissi Dance. Shri B.K. Thakur, Director(HR) proposed a vote of thanks.