The present capacity of smelter is 4.60 lakh TPA. Alumina is converted into primary aluminium through a smelting process by using electrolytic reduction. From the pot-line, the molten aluminium is routed to either the casting units, where the aluminium can be cast into ingots, sow ingots, tee ingots, billets, wire rods, cast strips and alloy ingots, or to RPU where the molten aluminium is rolled into various cold-rolled products or cast into aluminium strips. Aluminium products are sold in the domestic market and also exported through Kolkata, Paradeep & Vizag ports.
Nalco acquired and subsequent merged International Aluminium Products Limited (IAPL), the 50,000 tpa export-oriented Rolled Products Unit with Nalco. The RPU is integrated with the Smelter Plant at Angul for production of aluminium cold rolled sheets and coils from continuous caster route based on the advanced technology of FATA Hunter, Italy. It has also started production of another variety of rolled product named as chequered sheet with thickness ranging from 0.60mm to 3.0mm.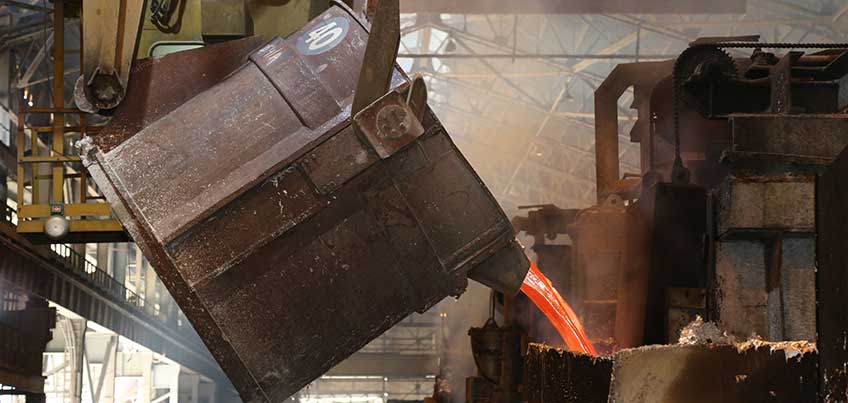 The Salient Features
180 KA cell technology.
Micro-processor based pot regulation system.
Fume treatment plant with dry-scrubbing system for pollution control and fluoride salt recovery.
Integrated facility for manufacturing carbon anodes, bus bars, anode stems etc.
Hyper Dense Phase System (HDPS) for alumina feeding.
4 x 35 Tonne and 4 x 45 Tonne furnaces and 2 x 15 TPH and 2 x 20 TPH ingot casting machines.
4 x 45 Tonne furnaces and 2 x 9.5 TPH wire rod mills.
2 x 45 Tonne furnaces and 60/42 per drop billet casting machine.
2 x 1.5 Tonne induction furnace with a 4 TPH alloy ingot casting machine.
26,000 TPA strip casting machines.
2 x 45 Tonne furnaces and 9 TPH tee ingot casting machine.
2 x 45 Tonne furnaces and 20 TPH sow ingot casting facility are being installed.