GST offers better cash flows and better working capital for industries : Dr. Tapan Kumar Chand

06/07/2017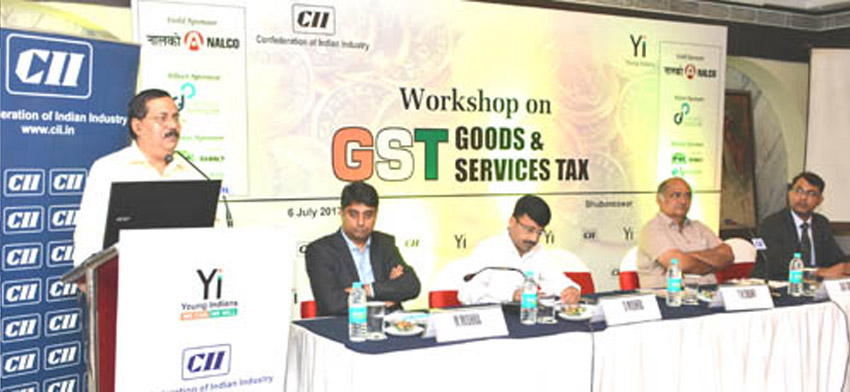 Bhubaneswar, 06/07/2017: GST promotes One Nation, One Tax, One Market, a great contribution of the new generation to the ever-evolving concept of Unity in Diversity of India," said Dr. Tapan Kumar Chand, CMD, NALCO and Chairman, CII, Odisha. "GST would benefit industries by offering better cash flows and better working capital management. This Tax system would also boost India's economic development by transforming the earlier multiple tax system into one direct taxation system," added Dr. Chand. He was addressing a workshop on Goods & Services Tax, organized by CII, Odisha and Yi (Young Indians), Bhubaneswar on 6th July 2017 in Bhubaneswar. Citing the example of NALCO, Dr. Chand said that there would be Rs. 100 crore positive impact of GST on the company. "Implementation of GST is so far smooth amongst industries in Odisha," opined Dr. Chand.
It may be mentioned that prior to the Goods and Services Tax came into force on 1st July, 2017, NALCO had taken up several steps for the smooth implementation of the new taxation system and spreading awareness regarding the same. NALCO had already conducted several outreach programmes within the organization for stakeholders to get acquainted with requirement of the new GST regime. Besides, NALCO is partnering with Confederation of Indian Industries (CII), Odisha to organize outreach programmes for industries and other stakeholders on implementation of GST. This workshop was in line with this partnership.
Shri Saswat Mishra, IAS, Commissioner of Commercial Taxes, Govt. of Odisha delivered the special address on the subject. Shri Mishra explained various aspects of implementation of new taxation system for the understanding of the common people. Among others, Shri A.K. Sabat, Convener, Finance, Taxation & Economic Affairs Panel and Shri Matrudatta Mishra, Chairman, Yi, Bhubaneswar Chapter spoke on the occasion. Technical sessions on GST were conducted by Shri S.K. Goyal, Central Council Member of Institute of Chartered Accountants of India and Shri S.K. Panda, IRS, Commissioner, GST, Bhubaneswar.