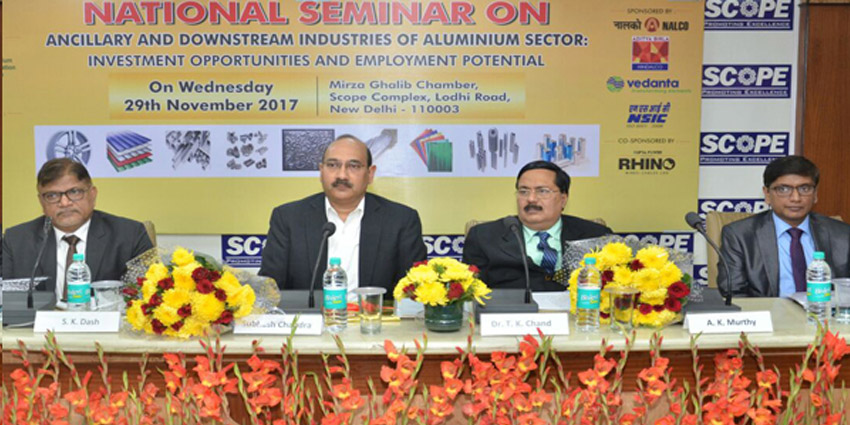 "Aluminium is metal of the future with limitless possibilities & opportunities": Dr. Chand
Bhubaneswar, 29/11/2017:  A national seminar on Ancillary and Downstream Industries on theme "Aluminium Sector: Investment Opportunities and Employment Potential" was held today by Aluminium Association of India at the Scope Complex, in New Delhi.
Addressing the participants, Dr. Tapan Kumar Chand, President of Aluminium Association of India (AAI) and CMD NALCO said that the Aluminium consumption is growing considerably and very soon we would be among the largest users in the world. "As demand of Aluminium is expected to rise further, it is essential to achieve momentum and reduce carbon footprints", added Dr. Chand.
Further he also informed that AAI has requested Ministry of Mines, Govt. of India, to constitute an Aluminium Development Council consisting of primary & secondary producers to prepare aluminium mission 2032 and promote consumption of aluminium in India. Dr. Chand, also said that AAI has submitted its budget proposal on import & export duty in aluminium sector to Government of India. He also clarified that at present there is no need for minimum import price.
Shri Subhash Chandra, Joint Secretary, Ministry of Mines, Government of India, graced the occasion as the chief guest. In his address, Shri Chandra stressed on the role of primary industries in aluminium sector towards the development of areas where they are operating, so as to win the confidence of the local peoples and reduce resistance from the public. He also stressed on enhancing the livelihood of the local people by encouraging skill development and self-employment.
The national seminar was attended by industry captains from all primary industries and from many Downstream and Ancillary industries, Research and Development organizations including CSRI, JNARDDC, IIT, Bhubaneswar, Management Consulting organizations and other academic institutes and National Small Industries Corporation Ltd (NSIC).
Speakers from primary and secondary industry of Aluminium, research organizations, consultancy agencies presented their views and gave deliberations on various issues on future growth of aluminium sector as a whole.