Human resource drives business excellence: CMD NALCO

13/05/2017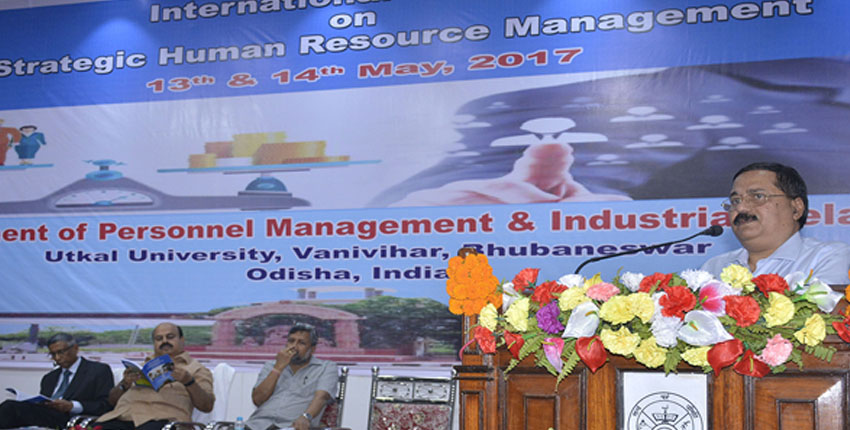 Bhubaneswar, 13/05/2017 :"Employees are gift of legacy and they need to be nurtured. It is not business that brings success but the people in the organizations that make the business successful," said Dr. Tapan Kumar Chand, while inaugurating the 2 day long International conference on "Strategic Human Resource Management" here at Utkal University, today. The seminar is being organized by Post Graduate department of Personnel Mangement & Industrial Relations, Utkal University.
"Econo mies are yet to recover from the slowdown and organizations across the globe are facing tough challenges and competition to survive. Under such circumstances, the focus is on sustainability through innovation, adoption of new technology and cutting costs. Job cuts & lay-offs are becoming a necessary evil" said Dr. Chand. The once much-lauded diversity factor, free trade, open economies etc are now being questioned and protectionism, economic nationalism and restrictions in free trade are being sought. However, to overcome such situations, the role of HR professionals becomes pivotal to strategize their actions to move from the negative quadrant to a positive quadrant. It is imperative for HR professionals to become proactive, predictive and take note of technological advances like robotics, automation and virtual reality, as the current knowledge & skills shall get obsolete more often than before, added Dr. Chand. He further advised adoption of 'Blue Ocean Strategy' to address the issues faced in managing issues related to manpower.
Sharing the case of Nalco, Dr Chand spoke about implementation of a new business model that focuses on benchmarking, quantification and incorporation of ethical behaviour to enhance the integrity index as a core value. Human resource is at the centre of such an activity that becomes the drive of business excellence.
Dr Chand also released a souvenir on the occasion. Among others, Dr. Sarat Kumar Acharya, CMD, Neyveli Lignite Corporation Limited, Dr. Laxman R Watawala, President CMA, Srilanka, Dr. Abdur Rab, VC, Eastern University, Bangladesh, Shri Sanjay Jain, Director, Jindal Stainless Group, Dr. Asoka Kumar Das, Vice Chancellor, Utkal University & Prof. S.K. Tripathy, Head, PMIR & Dean, Business Studies & Management, Utkal University were notably present on the occasion. Government is seeking to strengthen trade, investment.