"In an age of materialism, organ donation can inspire the spirit of sacrifice for greater good" Nalco CMD

30/01/2017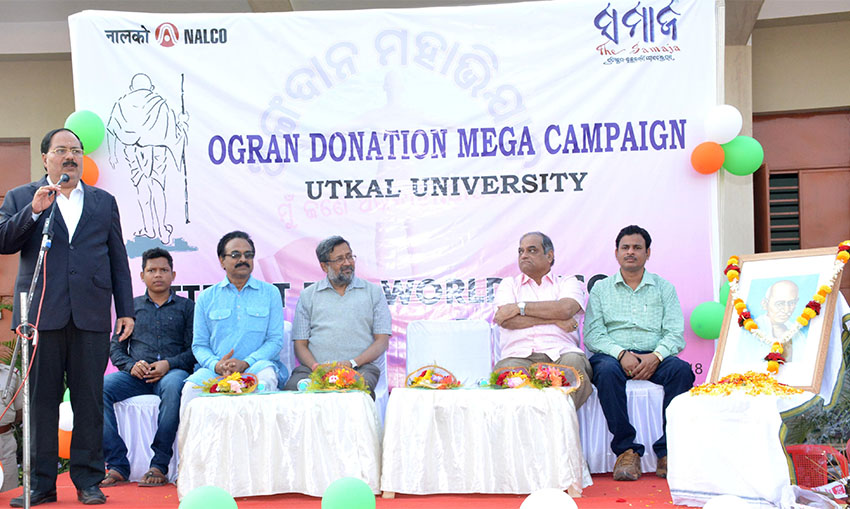 Bhubaneswar, 30/01/2017 : "In a world which is influenced by materialism, initiatives for organ donation would help usher in a transformed era of humanity and sacrifice," said Dr.Tapan Kumar Chand, while addressing as chief guest at the Organ Donation Initiative(Angadaan Mahavijaan) organized by Body and Organ Donation Initiative (BODI), an organization working under the aegis of Loksevak Mandal and The Samaja at Utkal University here on 30 th January. He lauded the organizers for efforts to create awareness among the people to donate body and organs, especially since the event coincided with death anniversary of Mahatma Gandhi, an epitome of sacrifice and selfless service to society.
Dr. Chand congratulated the organizers for holding the mega organ donation drive simultaneously at multiple locations in Odisha involving registration of a large number of people, which is an attempt for having a World Record in the Guinness Book. More than 1000 students from different institutions were present on the occasion. It may be mentioned that so far, pledges have been made for 700 whole body donations, 1000 organ donations and 700 eye donations under this platform.
Among others, Shri Ashok Kumar Das, Vice Chancellor, Utkal University, Shri Bamapada Tripathy, Editor, The Samaja, Dr. Pravas Acharya, President, Body and Organ Donation Initiative and Shri Mahesh Prasad, President, Students Union, Utkal University were present on the occasion.