With a view to make the Swacch Bharat Abhiyaan a great success, the navratna CPSE National Aluminium Company Limited (NALCO), today lined up a host of activities like banners with messages on swacchta, cleanliness drives, awareness programmes, beautification drive, pledge administration, waste management, workshops, seminars, swachhta song by eminent singer, involvement of all stake holders etc as part of Swachhta Pakhwada at its units and offices.
The company chose an innovative approach to launch the fortnight long swacchta campaign by distributing Charkha (spinning wheel) under sahyog scheme to Self Help Group in association with Khadi and Village Industries Commission (KVIC) at Narakoli Goroda, under Sriramchandrapur village, Puri, today. Shri Subhash Chandra, IFS, Joint Secretary (Mines), Govt of India, along with Dr. Tapan Kumar Chand, CMD, NALCO, in presence of Shri B.K. Thakur, Director (HR) and Shri Utkal Keshari, Director of KVIC handed over 25 nos of Charkhas to Women weavers of Sakhigopinath Khadi Gramodyog Sangh
Terming Charkha as a symbol of progress coupled with healthy environment for a healthy tomorrow, Dr Chand said that the women empowerment can truly be achieved if only we can bring about a positive impact on their lives and empower them economically and socially, helping them become self-reliant. As part of the event, hand wash & hygiene kits were also distributed to the BPL girl students. Dr. Chand also announced that NALCO would provide Hygiene kits free of cost for one year to the BPL girl students at Narakoli Goroda girls school. To mark the occasion, NALCO also felicitated country's youngest female Sarpanch, social activist & champion of women's literacy and empowerment Ms Arati Devi.
To boost the company officials in their endeavour to be socially responsible, Shri Subhash Chandra, IFS, Joint Secretary, Ministry of Mines, Govt of India, actively participated in the event and lauded NALCO's efforts as a responsible corporate citizen. In his address, Shri Chandra said that Khadi as a 'Swadeshi' product can be instrumental in bringing about an economical transformation in the country. He also called upon various industrial and manufacturing units particularly operating in mining sector to ensure impactful initiatives towards environment protection and cleanliness. He also stressed on inclusive growth and development activities in the periphery of operational units by the industries.
Subsequently, beautification and signage under Swacch Iconic Place (Shree Jaganath Temple, Puri) was also inaugurated by Shri Subhash Chandra, IFS, Joint secretary, MoM and Dr. Tapan Kumar Chand, CMD, NALCO at Puri National Highway at Biraharekrushnapur.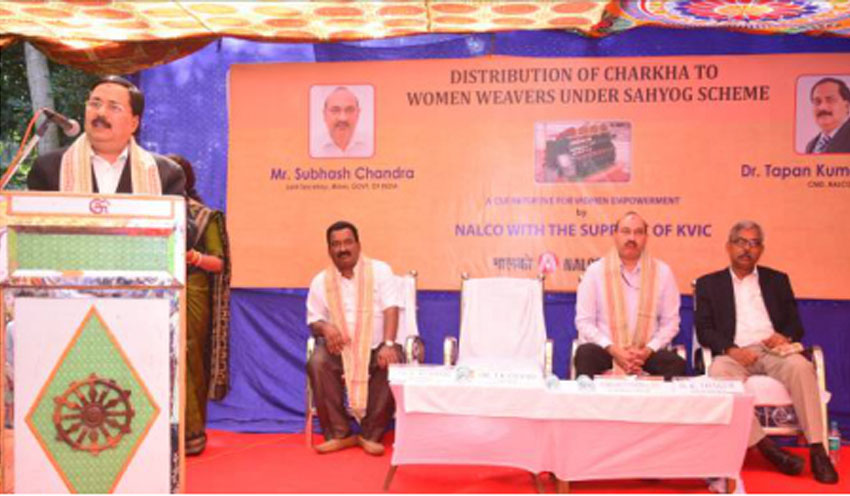 Dr. Tapan Kumar Chand, CMD, NALCO, addressing launching of Swachhta Pakhwada and distribution of Charkha and Hygiene Kits at Narakoli Goroda.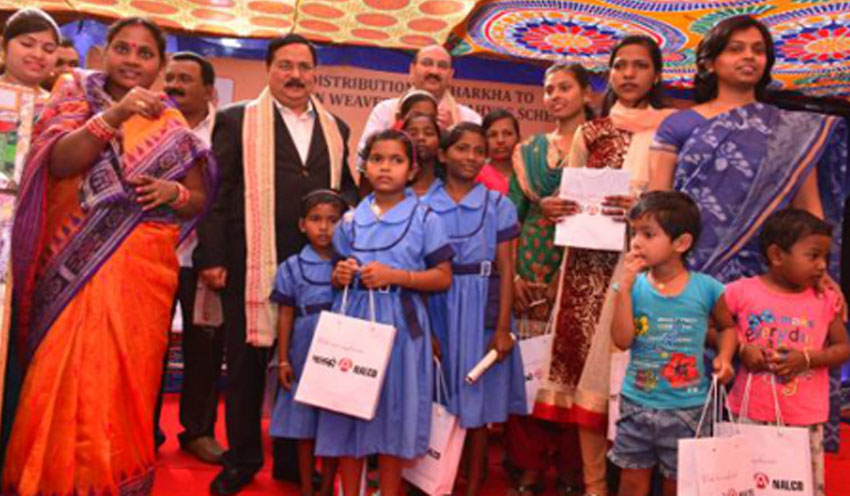 Distribution of Hygiene Kits to BPL girl students at Narakoli Goroda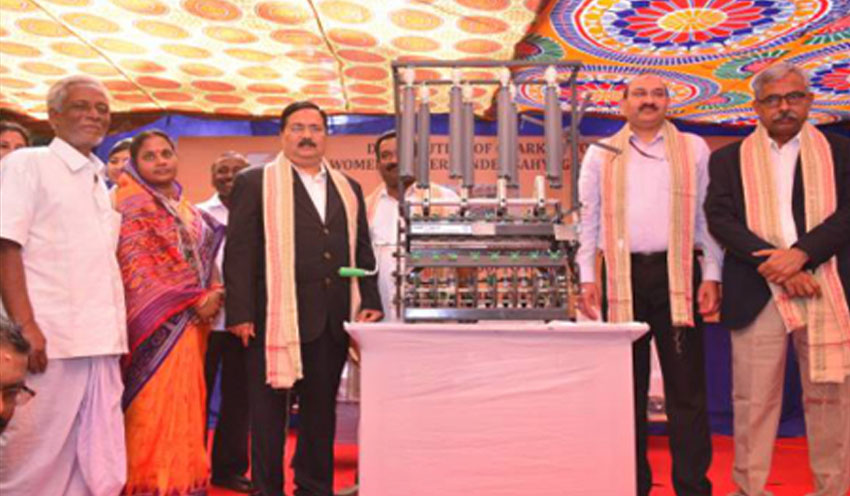 Distribution of Charkha at Narakoli Goroda

Beautification & Signage at Biraharekrushnapur, Puri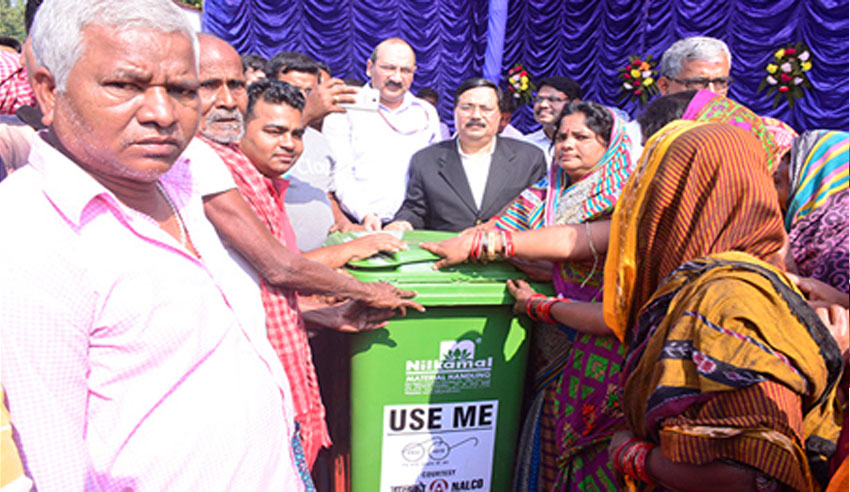 Distribution of dustbins at Biraharekrushnapur, Puri