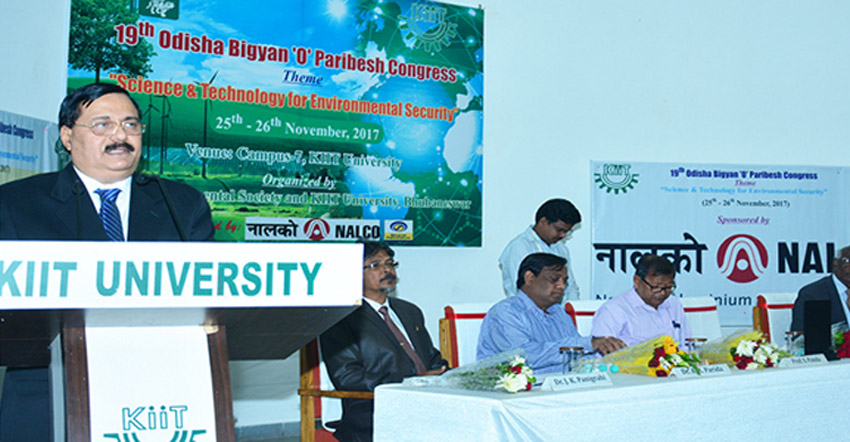 Bhubaneswar, 26/11/2017: "A green approach to development powered by technology essential for making of new India. Our country's next phase of growth depends on technology-driven & sustainable solution," said Dr. Tapan Kumar Chand, CMD, Nalco, while addressing as the chief guest at the valedictory session of Odisha Bigyan 'O' paribesh Congress, here at Bhubaneswar, today.
Addressing the scientists, academics, engineers, technologist and environmentalists of the state as well as from other parts of the country Dr. Chand informed about steps taken by Nalco like carbon sequestration, development of nano based emrino technology for treatment of effluent, zero based mining as examples of application of technology for environmental security.
"With the implementation of Make Green project by Nalco, we have been planting at least one tree per every tonne of bauxite produced. In line with company's bauxite production of 6.8 million tonne, Nalco has planted about 9.7 million trees in the vicinity of its plants and mines. We are also working to participate in tariff based bidding by Govt of Odisha to set up green power plants of 150MW capacity in Odisha," he said.
Terming Aluminium as future metal, Dr Chand further said that it will play a vital role in making upcoming Smart cities projects green.
The 19the session of the Congress is being organised on theme 'Science & Technology for Environmental Security' by Odisha Environmental Society and the KIIT University, Bhubaneswar. Among others, Dr. Ajaya Kumar Parida, Director, Institute of Life Science, Prof. Sudhakar Panda, Director, Institute of Physics, Prof. Sundar Narayan Patro President & Prof. Jaya Krushna Panigrahi, Convenor of Odisha Bigyan 'O' Paribesh Congress were notable present on the occasion.